Description
The flatOUT™ LED is the perfect USB Lightning cable to charge and sync Lightning™ devices. Know when your iPhone, iPod or iPad is fully charged with the flatOUT™ LED. The LED charge indicator pulses RED when charging then turns solid BLUE when it becomes fully charged. Available in 10in. length, this Lightning™ cable gives you the freedom to use your device while you charge or sync.
Charge & Sync
The flatOUT™ LED allows you to charge your device, as well as allow you to data transfer between your device and computer.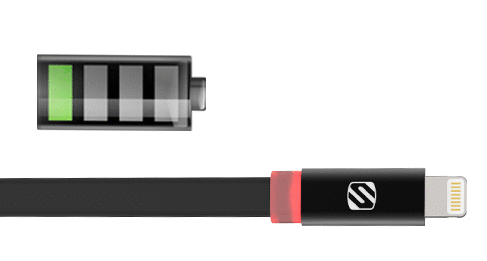 LED Charge Indicator
With a built-in LED charge indicator, knowing your Lightning device has finished charging is as simple as a glimps. The LED Charge indicator glows red when charging and turns blue when your device has become fully charged. Blue glow? You're good to go.
Tangle-Free
The flat tangle-free design of the cable helps avoid the dreadful untangling process after storing your cable.
Payment & Security
Your payment information is processed securely. We do not store credit card details nor have access to your credit card information.